We will publish a special 4th of July edition of the KA, which will also be distributed during Ramstein's Freedom Fest.
The 4th of July edition features articles about leisure, travel and culture, which are hugely popular with Americans living in the Kaiserslautern area.
Place your ad on the special page in the middle, with patriotic background, or with an article of your choice to draw even more attention to your products/services.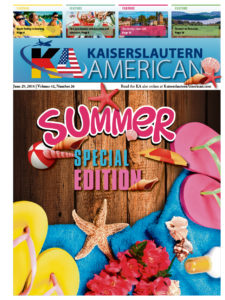 This year's featured articles are:
Hiking in the Dolomites
Rotterdam city getaway
Kriek beers
Stand Up Paddle Boarding
Canoe adventures
Summer festivals
Recipes
and more
Click to view last year's 4th of July edition.
Booking deadline is June 19.
Contact us today at 06 31 – 30 33 55 30 or via the contact form below.