On July 2, 2021, we will publish the special summer edition of the Kaiserslautern American.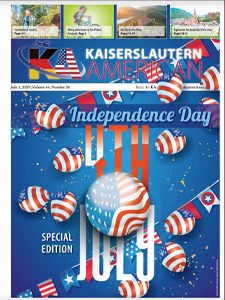 In addition to the regular distribution, this edition will also be distributed – Corona regulations permitting – at the big "Freedom Fest" in Ramstein.
The special editions of the Kaiserslautern American are the most widely read editions of the newspaper and very popular. They exclusively contain leisure, travel and cultural articles that are of great interest to Americans living here.
Don't miss your chance to advertise in the summer special.
You have the following options:
Regular ad placement/booking
Special placement on the "special advertising page" in the center of the newspaper
Special placement with a specific article – suitable for your business
Contents in this year's summer issue include:
Travel tips for solo travelers
Simple dog tricks
Travelogue: Lake Garda
Family trips: Cologne + Wiesbaden
Summer recipes
Insider Kaiserslautern: The Japanese Garden
5 spots to put on your summer hiking/biking/exploring list
Vinculture: An overview of German wine-growing regions
Click here to view last year's summer special issue.
The advertising deadline for special placements is June 18, 2021.
Contact us today by phone at 0631 303 355 30 or via the contact form below.