On November 26, 2021, we will release the Holiday Edition of the Kaiserslautern American.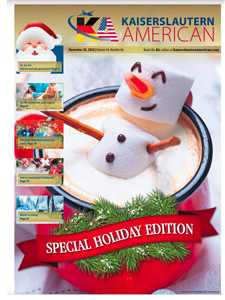 The special editions of the Kaiserslautern American are the most widely read editions of the newspaper and very popular with our readers. They exclusively contain leisure, travel and cultural articles which are of great interest to Americans living here.
Don't miss your chance to advertise in the Holiday Edition.
You have the following options:
Regular ad placement
Special placement on the "special advertising page" in the center of the newspaper
Special placement with a specific article – suitable for your business
Contents in this year's Holiday Edition include:
Christmas recipes
Tips for German Christmas markets
Winter in Scotland
Make dog snacks yourself
Travel report: Monschau + Lake Thun
Christmas time in Northern Italy
Visiting Santa Claus in Finland
Home office – the new working world
Travel tips: Van-camping trip to Ostsee
Click here to view the latest Holiday Edition.
The advertising deadline for special placements is November 10, 2021.
Contact us today by phone at 0631 303 355 30 or via the contact form below.