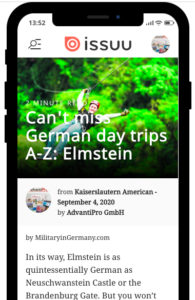 AdvantiPro GmbH
Advertising with AdvantiPro can bring great benefits to companies that wish to tap into the market of more than 150,000 military-affiliated Americans living in Germany.
But did you know that your print advertisements go far beyond print publications?
In fact, every print issue that AdvantiPro delivers to military communities in Germany is also published in an online reader using our digital flip pages platform. This platform brings great benefits to advertisers, because it allows us to increase the number of people who see your ad, and the number of times they see it!
This happens in three key ways.
1. Mobile Friendly "Article Stories."
Using our digital flip pages platform, lifestyle and feature stories are packaged for publication on social media platforms like Facebook and are created specifically for reading on mobile devices. Advertisements can be placed within these article stories, which greatly expands – sometimes into the tens of thousands – the number of people who see your ad.
2. E-newsletters.
Every publication is sent to hundreds of people through e-newsletters. These allow readers to access the digital versions of print publications. Depending on the publication, this gives you hundreds or thousands of more views in any given month.
3. Websites.
Every digital issue is loaded onto publications' websites and prominently displayed, which increases the possibility that more readers will see your ads.
If you are interested in learning more about the benefits of advertising in our publications, contact us today at info@advantipro.de or call us at 06 31 – 30 33 55 30.