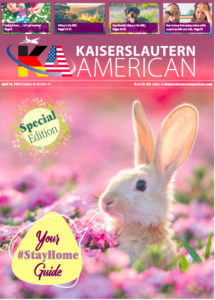 AdvantiPro GmbH
Don't miss your chance to advertise in the Spring Special Edition of the Kaiserslautern American, to be published on April 2!
This is always one of the most widely read issues of the KA. Your ad will be published in print and online. Introduce the community of over 60,000 in the Kaiserslautern area to your company and services. Build your brand while attracting and retaining customers!
What will be in the Spring Special Edition?
The April 2 issue of the KA will focus on leisure and lifestyle activities that are perfect for the COVID era. Featured articles include the following:
Easter recipes
Virtual tours of famous German monuments
Americans in Germany's Bundesliga
Picking up new hobbies
Traveling in the time of COVID
Fun virtual ways to stay in touch with your family
Fun Easter crafts
And many more
The closing date for advertisements is Monday, March 29 for existing customers and Friday, 26 March for new customers.
Contact us today! Fill out the short contact form below or give us a call at 06 31 – 30 33 55 30.