Don't miss the opportunity to advertise in the most popular edition of the Kaiserslautern American on November 29 – the Special Holiday Edition.
This edition contains leisure, travel and culture articles which are really intersting to Americans living in Germany.
Special advertising opportunities in this edition are:
Special pages: double pages in the middle with a special, holiday-themed background
Editorial pages: place your ad with an article suitable to your business (see list of articles below)
Another highlight of this edition is the annual raffle. Readers count an icon, which is hidden throughout the paper, and submit their answer for a chance to win one of many great prizes.
If you would like to take part in the raffle with one of your products/services, please contact your sales representative.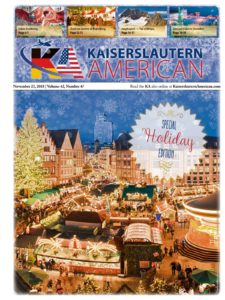 List of articles in this edition:
Hiking the English Lake District
History of the Chimay Brewery, Belgium
South of France: Nimes & Avignon regions
Ski & snowboard in Zell am See, Austria
Winter hiking in Oberstdorf
Garmisch winter camping
Euope's longest sled run, Bussalp, Switzerland
and more
Contact us today at 06 31 – 30 33 55 31 or fill out the short contact form below. Booking deadline is November 20.
We look forward to hearing from you.