Don't miss the opportunity to advertise in one of the most popular editions of the Kaiserslautern American on April 19.
The Special Spring Edition features articles about leisure, travel and culture, which are hugely popular with Americans living in the Kaiserslautern area.
Place your ad on the special page in the middle or with an article of your choice to draw even more attention to your products/services.
This year's featured articles are: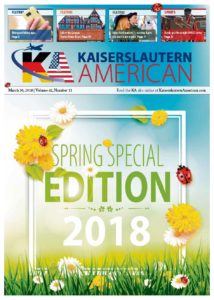 Wales
Bulgaria
Backpacking Switzerland
Eco Adventures
Belgian Chocolates
Skydiving
Spring Festivals and more
Click on the cover to view last year's Spring Edition.
Booking deadline is April 16.
Contact us today on 0631 – 30 33 55 31 or via the contact form below.